Box of Balloons Madison chapter leader shares how Ascendium's support makes an impact
June 2022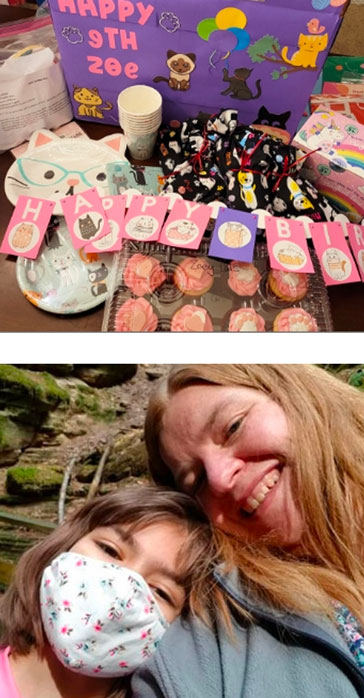 Ascendium employees have shown a great commitment to champion opportunity for all by using volunteer time off (VTO). When it comes to deciding how to use VTO, Box of Balloons, a nonprofit with a mission to make every child celebrated and each birthday happy, has been a popular choice among employees in Madison, Wisconsin. In 2021, 391 VTO hours have been used at the Box of Balloons Madison chapter. Due to this dedication and enthusiasm employees have shown towards Box of Balloons, the organization has recently received two generous donations from Ascendium equaling a total of $10,975. These donations were given in response to the generous amount of VTO hours employees chose to use at Box of Balloons this year. The co-leader of the Madison Box of Balloons chapter, Cate Valenzuela, shares how they plan to use these donations and expresses just how much of an impact volunteering for Box of Balloons can make on the community.
Cate lives in Madison with her family and their puppy, Coco. They were inspired to get involved with Box of Balloons after sponsoring a family for Christmas one year. "We wanted to be able to help out at other times of the year as well. Being able to help families create birthday memories was a great fit. I love seeing our community of volunteers come together to create surprising, beautiful, funny and sometimes very unusual birthday parties."
Cate co-leads the Madison chapter of Box of Balloons with Kellan Fitzgerald. Cate shares more about her work with Box of Balloons and Ascendium's support.
How Ascendium's donations are supporting Box of Balloons
"We're very thankful for the donation from Ascendium. This will allow us to continue our mission of bringing birthday joy to families in need across the Madison area. These donations will allow us to provide a book in each birthday box and to add other special treats to help families celebrate their kids on their special day."
How Ascendium is making connections with Box of Balloons
"We've worked most closely with Ascendium Deputy General Counsel Jenny Krueger. She's been an amazing contributor to our boxes. She frequently hand crafts birthday banners for the kids. It's wonderful knowing that each child will get a banner made just for them with their party theme and name. She's one of our speediest and most consistent volunteers."
How Box of Balloons supports the community
"Creating a birthday box might seem frivolous, but it's an important way to let these children and families know that their community cares. We care enough to give them something extra special. We care enough to create a smile. We care enough to let the kids be kids and have the kind of birthday any kid would want."