Our Headquarters
Collaboration and connection are the centerpieces of our headquarters in Madison, Wisconsin.
A Bold Representation of All We Stand For
In homage to our vision of a world where everyone has the opportunity to rise, Ascendium's corporate headquarters rises from the landscape to evoke ideals of loftiness and aspiration. Located in Madison, Wisconsin, our 60,000-square-foot facility focuses on sustainability and features a modern minimalist design.
The facility thoughtfully considers the changing work landscape and supports on-site and remote employees as well as business partners. Natural light floods the more traditional office areas, with walls of windows providing a stunning view and spurring creativity. Numerous collaboration hubs foster teamwork and advanced teleconferencing technology encourages connection.
Those needing a change of pace during the workday can take advantage of the on-site fitness center, outdoor sitting areas or nearby scenic walking paths.
OFFICE ADDRESS
38 Buttonwood Court
Madison, WI 53718 A City Perfect for All Stages of Life
Repeatedly ranked as one of the best cities in the U.S. to live, Madison is perfect for people of all ages. It boasts diverse cuisine, vibrant arts and culture and numerous outdoor activities. As the second largest city in Wisconsin, it offers big-city amenities, yet it has a small-town feel. Community members are warm and welcoming — even if the weather sometimes isn't.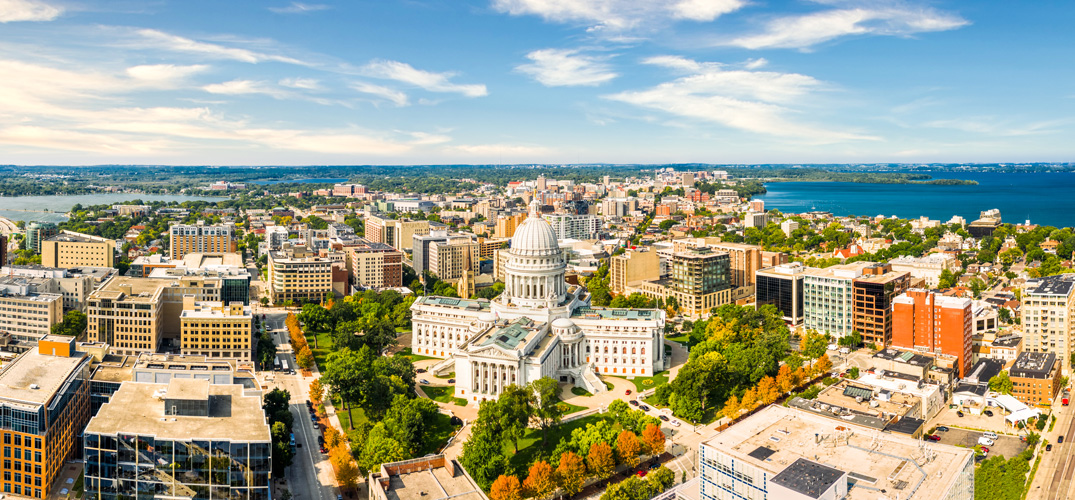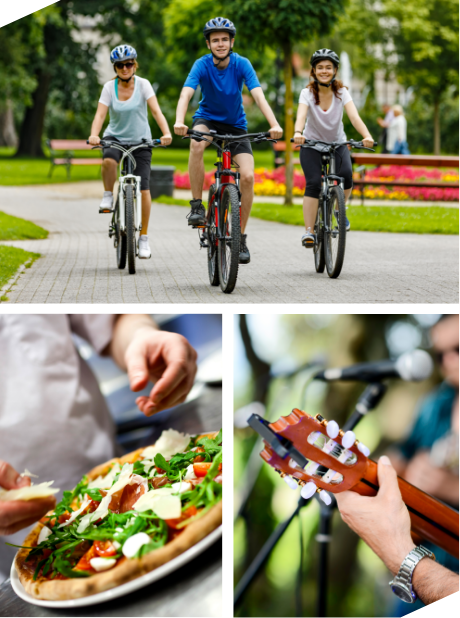 Madison at a Glance
CUISINE
If you're a foodie, then Madison is the place for you! The diverse food offerings reflect the area's diverse population. It has French, Ethiopian, Thai and Venezuelan cuisine and everything in between. The dining styles vary too, with numerous fine dining establishments, supper clubs, cafes and the ever-popular food trucks.
ARTS AND CULTURE
Although Madison is relatively small, it boasts a thriving arts and culture scene. Love music? Attend one of the many symphony and chamber orchestra concerts or a Broadway musical. Art more your thing? Spend hours in the museums and galleries admiring both fine and modern art. And, if you're a history buff, the historical and veterans museums are sure to delight.
OUTDOOR RECREATION
As one of the fittest cities in the U.S., Madison doesn't lack for outdoor recreation. Biking is a favorite pastime for many, but there's a variety of other things to do in every season, including hiking, kayaking, paddleboarding, golfing, tennis, boating, fishing, skiing, snowshoeing, ice skating and snow tubing.
Interested in learning more about Madison? Here are some of our favorite events to attend and places to visit.

FARMERS' MARKET
You may not typically think of a farmers' market as an event, but, as the country's largest producer-only farmers' market, the Dane County Farmers' Market definitely is. Held weekly on the Capitol Square during warmer months, the Saturday Market on the Square has almost everything you could ever want, from fresh bakery to artisan cheese to specialty items, and, of course, the usual fresh fruits and vegetables. If you're looking for something a little smaller, try the Wednesday market or any of the weekly farmers' markets held in the Madison suburbs.

BOTANICAL GARDENS
If you're a plant lover or just enjoy the quiet beauty of flowers without the need to maintain them yourself, then you'll want to visit Olbrich Botanical Gardens. Admission is free, and you can spend a few leisurely hours wandering through their 14 different gardens. Don't miss the fragrant rose garden and the renowned Thai garden, which has the only Thai Pavilion in the continental U.S. For another option, head slightly south to the Rotary Botanical Gardens. Besides having breathtaking specialty gardens, they have a Holiday Light Show with over one million lights.

SPORTING EVENTS
Avid sports fans and casual observers alike have plenty of sporting events to choose from year-round: hockey, curling, soccer, baseball, football, basketball, volleyball and much more. For a family-friendly outing, attend a Madison Radicals ultimate frisbee game downtown at Breese Stevens Field or a Madison Mallards baseball game at the Duck Pond — the entertainment between innings is legendary. A must on any sports fan's bucket list is attending a Badgers football game at Camp Randall Stadium or a Badgers basketball game at the Kohl Center for a bit of exuberant, collegiate fun.

HIKING
When it comes to hiking, your options are almost endless. For a shorter hike, try the Lower Yahara River Trail with its sweeping views of Lake Wabesa from a mile-long bridge. For something longer, try the Cherokee Marsh Conservation Park with its acres of wetlands perfect for bird sightings. If you're up for a more challenging hike, take a short drive north to the popular Devil's Lake State Park, known for its unique rock formations and scenic bluffs. While there, don't forget to take pictures at the Balanced Rock, Devil's Doorway and Elephant Rock.